We are committed to life-long training & education for our staff so we can continue to grow & provide excellent care for our patients.
IPL is Intense Pulsated Light, a technology used for various skin treatments. Lumenis Optima IPL revolutionary treatment gently and effectively treats your skin and eyelid inflammation such as rosaceawith maximal safety, comfort and full customization to yourskin type and condition.
With IPL technology, light pulses penetrate the tissue and create heat, targeting the abnormal vessels that are the root cause of the inflammation. The body's natural reaction to the treatment removes the abnormal vessels and heals the inflammation threatening the skin an eyelid. IPL technology treats your skin and eyelid inflammation while improving overall skin appearance.  
To ensure utmost comfort, coupling gel will be applied on the treatment area. For your eyes' safety, you will be wearing IPL protective goggles/pads during the whole treatment session. Each session lasts approximately 15 minutes. During the treatment, you might experience a warm sensation as light is applied to the skin, but the treatment is gentle and should not feel uncomfortable. Following the IPL treatment, your meibomian glands will be expressed to accelerate your skin and eyelid healing process.  
Immediately following treatment, you may experience some redness around treated areas that will usually disappear within a few hours. In most cases, makeup may be applied immediately, and daily activities can be resumed the same day. Your physician should advise to say out of the direct sunlight for a few days following the treatment and apply sunscreen.
Skin and eyelid inflammation can be relieved with as few as 1-2 treatments. Typically 4 sessions with 3-4 weeks in between are needed to achieve optimal results. Following the full treatment session, it is recommended to consult your physician on maintenance treatments for optimal long-term results (usually once every 6-12 months).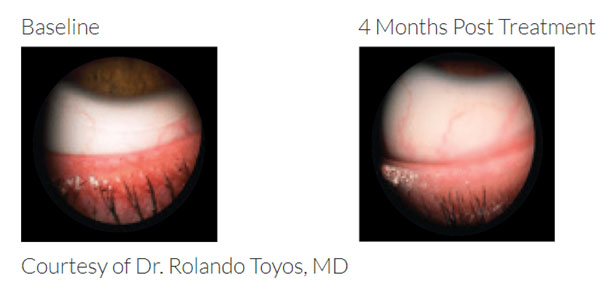 What Is LipiFlow?
LipiFlow is a treatment device specifically designed for effectively removing blockages from the meibmomian glands, allowing them to properly function and produce the oils that make up the top protective lipid layer of the tear film. 
LipiFlow activators are single-use sterile devices that safely and comfortably deliver automated therapeutic energies to the Meibomian glands, while protecting the delicate structures of the patient's eye. The activators are specifically designed to be placed under and over the eye lids and are contoured above the cornea, so that the activators themselves avoid contact with the core eye surface.  The placement of the activators on the eyes and treatment is a simple process that is done with minimal discomfort, on average.
What is PROKERA®?
PROKERA® is a therapeutic device used by eye doctors around the world to protect, repair and heal damaged eye surfaces. PROKERA® is made by clipping a piece of amniotic membrane tissue in between two rings made out of a clear, flexible material.
What is amniotic membrane tissue?
Amniotic membrane is part of the placenta and is the tissue closest to the baby throughout development in the womb. Amniotic membrane protects the baby from any harm and has natural therapeutic actions which help the baby develop. The tissue has healing properties that aid in ocular surface repair.
What does PROKERA® do? 
The amniotic membrane tissue in PROKERA® has natural therapeutic actions that help damaged eye surfaces heal. Eyes treated with PROKERA® have quicker healing, less pain, less scarring, and less inflammation. The amniotic membrane in PROKERA® is thin and clear like the tissue on the surface of your eye and protects your eye's damaged tissue while inserted.
What does PROKERA® treat?
PROKERA® is used by eye doctors to treat eye diseases such as keratitis, corneal scars, chemical burns, corneal defects, partial limbal stem cell deficiency and many other ocular surface diseases with inflammation.
Is PROKERA® safe?
PROKERA® is a safe, effective treatment provided by a tissue bank regulated by the FDA. The tissue has passed many quality control tests before it is provided to your doctor.
If you have keratoconus or another irregular cornea condition, traditional contact lenses can sometimes be problematic. Gas permeable lenses provide excellent visual acuity and may fit comfortably, or they may not, or just not as much as you would like!
"It's great to see the effect scleral lenses can make," said Dr. Shane Laster "When patients first come into the office, they may have extremely irritated eyes, and have to constantly use eye drops. But once we put in the scleral lenses, they feel instant relief."
Who could potentially benefit from scleral lenses?
Patients with irregular corneas, patients with conditions that affect the tear film, and patients with refractive error (nearsightedness, farsightedness, or astigmatism) who are unable to wear other forms of correction could benefit from scleral lenses.
Conditions such as keratoconus and pellucid marginal corneal degeneration cause irregularity in the surface of the eye. Surgery (keratoplasty, refractive surgery) can also lead to corneal irregularity. If the cornea is not smooth, vision will not be easily correctable with spectacles or most soft contact lenses. Scleral lenses mask this irregularity and allow for clearer vision by providing a smooth front surface through which light can enter the eye.

"Extreme dry eyes can be treated with new, bigger contact lenses"
People suffering from extreme cases of dry eyes can now be prescribed new, innovative wide-diameter contact lenses by an optometrist.
Conventional rigid contact lenses are roughly 9 millimeters in diameter and lie on the cornea – the colored part – of the eye. But the special dome-shaped "scleral" contact lens is 15 to 22 millimeters and rests on the sclera – the white part of the eye. A pool of saline solution lies underneath the large contact, continuously bathing the dry eye.
While these kinds of contacts have been available for decades, major technological improvements have helped them to make a resurgence to treat dry eyes. The newer models – which are made of hard plastic – are gas permissible, allowing oxygen to fill the lens to provide oxygen to the eye surface.